Its been a busy week for ya boi Bmick: Went to Austin to record a podcast with my Craig on fullsass.com, threw up a couple of blog posts (big ups to my boys Jordan and Alex for blessin' the game), and last night worked my first private gig as a standup comic (also did my first clean set ever–who knew I had it in me?).
Out of all that activity, the most important thing I did was get that NBA League Pass. Its a game changer no doubt. Now I'm ready for "Tip-off Tuesday" So let's get it:
TUESDAY
Detroit-Atlanta
Cleveland-Chicago
New Orleans-Golden State
Three good ass games that night. I'm curious how my boy Stanley Johnson plays. I was so hype on Justice Winslow this season that I forgot all about Stanley Johnson being on the Pistons. Detroit has interesting squad. If they were playing out West they'd be trash, but they benefit greatly from being out east. Later on in the season, I will tell you to avoid this game. But its "TIP OFF TUESDAY DAWG!!!!" We ain't had no basketball in months. You gotta get it in!
Unless you napping, or peeping game 1 of the World Series, you should at least watch the second half of this game. Don't get too up or down on either team for Cleveland-Chicago game. Media gonna be overreacting the next day no matter who wins. ESPN will have some bullshit narrative to run into the ground, as Bill Plaschke and other talking heads talk about early warning signs for the losing team. GUYS!! GUYS!! GUYS!!! Calm the fuck down. It's only game 1 of an 82 season.
You best believe I'll be up late  watching that Golden State-New Orleans game. Coach Gentry getting his ring will be a nice thing to witness for the Pelicans players, but minus Anthony Davis, they really don't have anything. That is how good "Lil Brow Wow" is. He's my MVP pick for the year.
Wednesday
Spurs-Thunder (Good Ass Game of the Week) 
I was supposed to work my second job this night, but I can already feel this developing cough coming on. [COUGH COUGH WINK WINK ELBOW NUDGE]
Dallas-Phoenix
Battle for the eighth seed begins.
Cleveland-Memphis
I'm not saying Cleveland is going to punk out, but this going to be a physical game on the 2nd of back-to-backs for the Lebrons. Go ahead and get that ice bath ready fellas. You're going to need it. Speaking of physical:
Clippers-Kings 
Will be a game chock full of testosterone. If I were a groupie trying to get a meal ticket, this game would be circled on my calendar. There's some young entrepreneurs holed now in some Sacramento hotel right now, poking holes in condoms and vacuum sealing the packaging.
Minnesota-Los Angeles
This game will be full of cool highlights, but will also have loads of stupid turnovers. This may as well be a Rookies vs. Sophomores game with KG and Kobe as the head coaches. I'll fight off sleep just long enough to watch the first half. I like to leave the betting to Alex Knapp, but I'll say that there will be at least 3 insane dunks that makes Sportscenter from this one.
"Tap that Vein Thursday"
You'll have plenty of opportunities to watch the Pacers play, so unless you really need to see them unveil the
Hickory High uniforms, use the Memphis-Indiana game to be productive.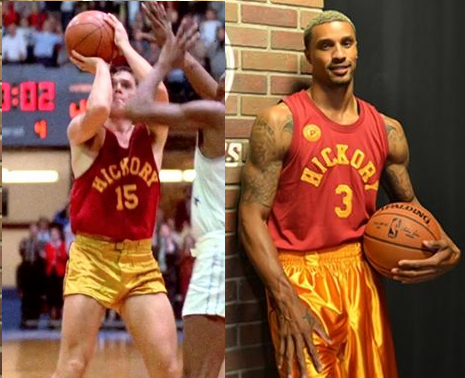 Side note: Am I the only one who thinks Memphis would be better off playing in the Eastern Conference? They would be beastin' if they were over there (and they probably should be, they are no longer from Vancouver–also, how many Grizzlies are really in Tennessee?). If they were in the east they'd easily be a top 3 contender.
Dallas-Los Angeles Clippers
I don't know about this one either. Use Thursday night to build up cache with your loved one. Its early in the season, but every little bit counts. Unless you and your wife are hardcore Mavs fans, and you want to brainwash your infant into being a Mavs fan too, I'd say do something else. Its only the first week. This matchup will mean a lot more as the season moves along.
Friday
Its going to be a busy night for the Mickster. The World Series will have moved to what is currently my favorite American city (Queens representin'), I'll be showing my face at a Halloween party that night (dressed as you guessed it, an NBA ref), and there are a ton of games.
Houston-Golden State and Miami-Cleveland will be the main attractions, but with NBA League PASS, I can go home and watch the Portland-Phoenix, Lakers-Kings, and Bulls-Pistons games after the fact. #GAMECHANGER
Saturday
Its Halloween. Don't bother. Golden State-New Orleans play again for the 2nd night in one week, and on the 2nd night of a back-to-back.In fact, everybody plays back  to back on Halloween. Do yourself a favor and go get liquored up and make a bad decision or two (nothing that you can't videotape or that will get you thrown in jail).
Sunday (First of tha month)
Can you think of a better way to nurse a hangover than to watch the Spurs beat the Celtics?
Houston-Miami won't be a bad watch either, and you could do worse things than tune in to Milwaukee-Toronto.
Monday
Oklahoma City-Houston
Runner-up to the Good Ass Game of the Week.
Memphis-Golden State
"YUP!!!!"
~E-40
Portland-Minnesota and Suns-Clippers 
are worth checking out during timeouts and commercials, but honestly the highlights will be better than the games themselves. No disrespect to the fan base of either franchises, but you know what it is.
Big Ups of the Week to:
Jerry Colangelo USA basketball committee for finally doing what is right. Gregg Popovich has done as much for the game of basketball as anyone not named James Naismith. This is a win for everyone involved, but most of all this is a win for the game of basketball. I'm getting choked up just writing about this. Big ups!
So that's it. The NBA season starts on Tuesday, and I couldn't be happier. Basketball season is finally here. GOOD NEWS. GOOD NEEEEWWWWWWWWHHHHHHOOOOOOSSSSSSS.
Shout out to the Mets and the Royals for what will be a classic World Series. I think the Royals will take it in 7. I'll be happy for either fan base no matter who wins. Although,I'll just be more happier Mets fans. Kansas City is in Missouri after all. And we all know how I feel about that state.
Be cool.
Bobby Mickey
@clickpicka79
#thisagoodassgame
fullsass.com
bobbymickey@gmail.com